Henry Normal | Facebook: Henry Normal | @HenryNormalpoet
Henry Normal is a writer, poet, TV and film producer, founder of the Manchester Poetry Festival (now the Manchester Literature Festival) and co-founder of the Nottingham Poetry Festival. In June 2017 he was honoured with a special BAFTA for services to television.
Henry co-wrote and script edited the multi-award-winning Mrs Merton Show and the spin-off series Mrs Merton and Malcolm. He also co-created and co-wrote the first series of The Royle Family. With Steve Coogan, he co-wrote the BAFTA-winning Paul and Pauline Calf Video Diaries, Coogan's Run, Tony Ferrino, Doctor Terrible, all of Steve's live tours, and the film The Parole Officer. Setting up Baby Cow Productions Ltd in 1999, Henry Executive Produced all and script edited many of the shows during his tenure as MD. Highlights of the Baby Cow output during this time include Oscar-nominated Philomena, I Believe in Miracles, Gavin and Stacey, Moone Boy, The Mighty Boosh, Marion and Geoff, Red Dwarf, Uncle, Nighty Night, Hunderby, Camping and Alan Partridge.
Since retiring in April 2016, Henry has written and performed nine BBC Radio 4 shows, A Normal Family, A Normal Life, A Normal Love, A Normal Imagination, A Normal Nature, A Normal Universe , A Normal Communication, A Normal Ageing and A Normal Community, combining poetry, comedy and stories about his life and family.
Born in St Ann's, Nottingham, Henry now lives in East Sussex with the screenwriter Angela Pell and their son, Johnny. He was recently given honorary degrees by both Nottingham Trent University and Nottingham University and is Patron of Nottingham City Arts and Nottingham UNESCO City of Literature. He has also had a beer and a bus named after him in his home city.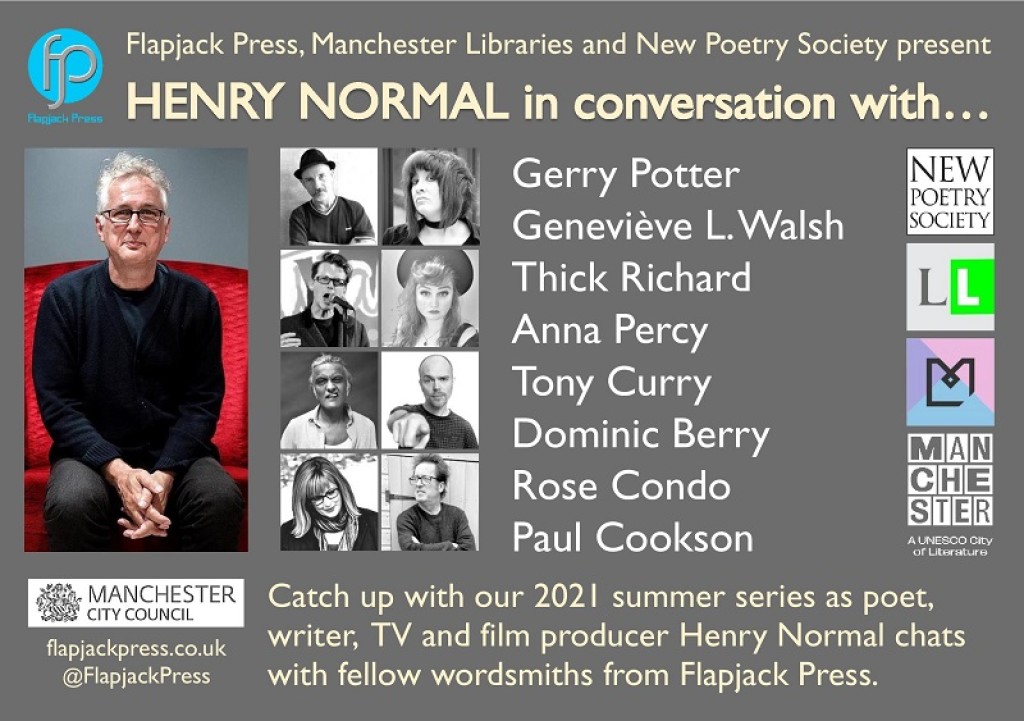 Catch up with every event on YouTube

Henry Normal: An Evening In With Flapjack Press #4
Poet, writer, TV and film producer Henry Normal performs a selection of his work at An Evening In With Flapjack Press #4.